Click here
to play the demo and discover the changes discussed in this post.
The major change brought by this new update is the addition of a new settlement far to the north of the first one. The game now features two settlements, quite distant from each other and with their own, independent economies (although "economy" is still a big word at the moment). Although it doesn't have that many implications yet, it's an important step towards all the inter-settlement dynamics.
In order for the player to choose in which settlement to start, a brand new settlement selection screen has been added. It displays the full world map (the in-game map zoomed-out a lot) and the locations of the two settlements, accompanied by short descriptions. There will be much to do to make this screen visually appealing but it's nice to already have the basic functionality.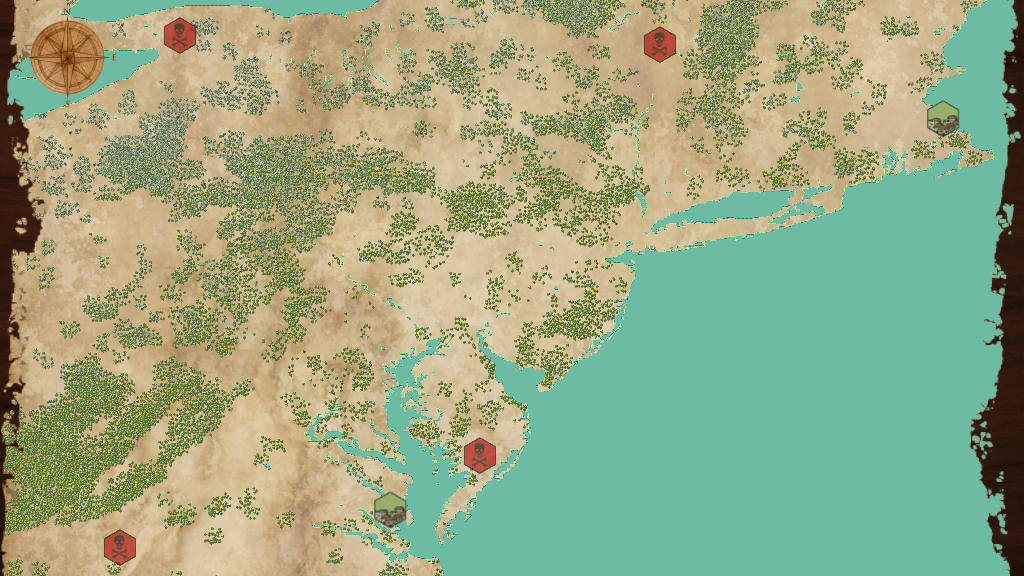 In addition, right before that one, another screen allows the player to select a class among four possible ones: Soldier, Merchant, Craftsman and Explorer. For now it doesn't change anything though.
In terms of actual gameplay, there are now items you can find in the wild and pick up. All of them now have a crafting-related purpose, even though the crafting system is still far from what it is expected to be. I find it already satisfying to spend arrows in a fight, and then go around picking up wood and feathers to make new ones.
All of this contributes to gradually shaping the game in the right direction. I have also fixed many bugs, big and small, a made the movement system slightly smoother (although it won't fully be so until the transition to 8-directional movements).
Custom assets
Another great development is the fact that Westward now boasts its very first custom-made visual asset. If you check out any of the two settlements, you'll see that the appearance of the Forts have changed, in favor of the following: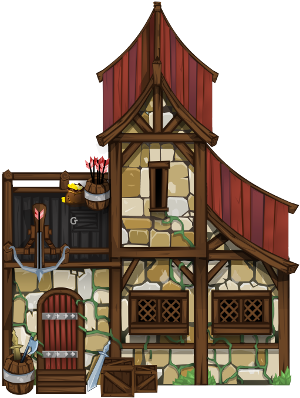 Which is a definite improvement. Tom Hoskisson is to thank for that, as we have started collaborating on making brand new buildings, and much more! Expect to see several visual improvements in the next dev log.
Closing comments
I saw that some of you made use of the bug reporting feature, which allowed me to detect and fix a few bugs. That's great. Others seemed to have used it mostly to send me postcards, but that's fine as well! In the following weeks I'll keep fixing the bugs I encounter while adding new features. In the meantime, any and all feedback is always appreciated.
If you share my enthusiasm about the progresses of Westward and would like to contribute, consider having a look at my new
donation page
. In particular, take a minute to have a look at my
Patreon page
, where you can find a listing of rewards for various levels of recurring contributions!